TOP TIPS FOR FACEBOOK MARKETING!
When it comes to writing your Facebook ad, every single word counts. You have just 5 seconds to grab your readers' attention and engage with your content.
How do you make that split-second count?

What do you need to do?

A great ad is more than just an attractive headline! 
What to include or omit is quite an art and not one that always comes easily. Implementing a few simple tips, will take your ads up a notch and help achieve your goals.
1. Know your audience & address their needs!
Your users do have a need, and need a solution to that need, find out what that need is, and present them with a suitable solution.
Check out this advertisement that focuses on a solution for larger women "You deserve better than hot thick cycling shorts," tells the reader from the start that THIS is the solution they've been waiting for. and encourages them to continue reading. They want to know what it is!
The call to action, "This is your Summer Goodbye Chub Rub," tells them what that solution is, and gives them an opportunity to learn more.
2. Set VERY clear goals!
When your reader sees your ad, do you want them to . . .
Buy a product?

Go to your website?

Sign up for your email list?
Once you have set your goal, write your copy around what you want the reader to do. Consider your target audience and what they need to hear in order to take the next step. Write something genuine that instills confidence and trust. Without a clear goal, your creative won't be effective or speak to your audience. 
3. Keep it short, sweet and simple!
More words do not equate to more effective copy. In fact, to words can make it worse.
Trim the excess and lose unnecessary words, keep it as tight as possible. Fewer words, = easier to read. Be completely ruthless in cutting out the unnecessary copy, and craft something that is straight to the point.
Play on words and create a simple headline that grabs the reader's attention, is easy to absorb, and relates to the topic.
4. Tell a story
he combination of your copy and visuals need to tell the same story, content and image need to match and complement each other, your user can then determine the message of your ad. Don'tconfuse your audience by the message.
The combination of your copy and visuals need to tell a story. In order to tell an effective one, that content must match. If you have copy and imagery that doesn't compliment each other, your user will be unable to determine the message of your ad. If your audience is confused by the message, the ad will not be effective.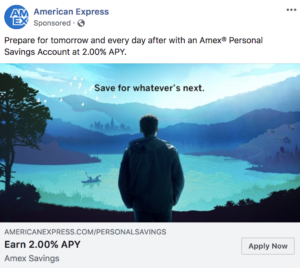 In this American Express ad, the wording and photo tell a story. "Prepare for tomorrow and every day" match the image. The wording makes the reader imagine that the person is curious about their future, but confident they don't have to worry, thanks to their American Express Personal Savings Account.
The reader too can have a life free of worry being promoted to "save for whatever's next," and features an easy-to-access "Apply Now" button right at the bottom, telling the user what to do next.
5. Test & Tweek!
To start your ad campaign, test a couple to see which works best! A/B testing.
Begin by deciding what you would like to test.
Have two headlines in mind? Try them both with the same image.

You could also test different images, but with the same headline and copy.

Test different calls to action, like CALL NOW, BUY NOW or SIGN UP.
. . . or anything else that you'd like more insight on. It could be two entirely different ads or two versions of the same general message, dependent on what your goal is, and what you need to know.
This image shows an example of A/B testing completed by MADAMOC. The same overall message was used in both ads, but just ana added banner over one image.
Once you have designed your ads, set a time period to run the trial. A short 24 hours is all you really need! Once you begin the timed trial. Compare their click-through rates and see which ad is getting the most attention.
When the testing, determine which ad was the most successful, to decide which ad to continue with. By doing this, you can determine which ad is going to be more successful with your audience and use that ad only. This saves resources and money, allowing you to present more effective content right from the start. It is smarter to spend 24 hours testing two ads than risk failure by using just one ad for an entire campaign.
6. Track your Relevance Score!
Facebook has a way to test how relevant your ad is to your audience. Using the Relevance Score Tool in the Facebook Ads Manager indicates if your copy is specific to your audience. Use this score to make tweaks and adjustments and perform checks. Consider using this tool in addition to A-B testing to get further insight into ad comparisons.
Play around with your copy and image until you are happy with the results! Your score is in real-time, so it is a great indicator of how your ad is doing!
*NOTE this measures relevance. Your ad could be beautifully written, but if it is not being sent to the correct audience, the score will be low. Match your audience, above all else!
7. Give your user a reason to take action!
If you want your ad to convince the viewer to take action, you have to give them a reason. What will they gain from taking action on your content? It needs to make them want to learn more or want to act now.
Make sure your copy tells your audience what they will gain from using your service or product. How will they benefit from engaging with your content?
Company updates?

A great giveaway?

An eBook?

Great savings?

Or are you having a specific sale?
Entice them and pull them in by telling them what they will get in return for their efforts.
Starbucks does a great job of showing the user what is in it for them if they download the app and receive free drinks with the rewards program. Because the reader knows what they will gain, they are more inclined to interact with the ad.
8. Create a sense of urgency!
It's a great way to make your customers want to get involved and feel they must act quickly. If they don't, they risk missing out on something great!
Including an emotional aspect in your copy makes readers want to complete the follow-through in order to take advantage of your offer, whether it be a sale, promotion or freebie.
Freshly's straight-forward approach to creating a sense of urgency gives a limited time to take advantage of the offer. Consequently, the reader feels that if they don't take advantage of this, they will miss out on half-price meals! Creating a sense of urgency with your reader does not have to be complex.
SUMMARY
Writing great, effective ad copy is a practice that takes time, trial, and error. But, by following these simple tips, you will be well on your way to creating great ads. As long as what you are are doing resonates with your audience, authentic and eyecatching, you are on your way!